There's no doubt about it – PC gaming is in its prime. If it hasn't been proven already by the suave GTX 1080 Ti with its 4K, high-refresh-rate gaming capabilities then maybe the imminent Windows 10 Creators Update will convince you, what with its gaming-centric features such as Beam and Game Mode making their rounds.
When it comes to pushing the limits of how a game can look and feel, computers do it best. Even if console makers mastered the art of uniform cooling and thrifty optimization techniques, the PC space laid the groundwork for virtual reality, allowing for VR-ready powerhouses such as the refreshed ThinkStation P320 to come into play.
However, if you're more interested in building than buying a new computer, it may be tempting to go after the most lavish graphics card on the market. In that case, an Nvidia Titan card would be choice. Although, in a world where most don't have nearly a grand to spend on PC components, the best graphics cards responsibly balance power with price.
Even so, there's no point in anteing up for an excessively mighty graphics card if it's being bottlenecked by a stingy processor or held back by a low-resolution display. Conversely, you don't want to be stifled by AMD's budget-friendly, yet timid Radeon RX 460 if you're rocking one of the very best monitors cranked all the way up to a 4K, Ultra HD resolution.
Prefacing out of the way, here are our picks for the best graphics cards around. Whether your budget allows for high-end, mid-range or low-end pricing, you'll find an up-to-date list of recommendations as well as the latest review from one of our test benches.
Titan X performance without the Titan X cost
Stream Processors: 3,584 | Core Clock: 1,480MHz | Memory: 11GB GDDR5X | Memory Clock: 11GHz | Power Connectors: 1 x 6-pin; 1 x 8-pin | Outputs: 3 x DisplayPort, 1 x HDMI
Titan X-like gaming performance
Improved cooling
A pricey investment for most
The GTX 1080 Ti is, if we're being honest, exactly what the Titan X Pascal should have been. It's lavish, but not egregiously priced, and it's powerful enough to move mountains, even at Ultra HD resolutions. Don't expect 4K 60 fps in every game that releases at the highest settings, but at this price point, nothing else compares. Compared to any of the other Pascal-series graphics cards, the Nvidia GeForce GTX 1080 Ti is hardly distinguishable looks-wise, aside from the mysterious absence of a DVI port. Take a gander inside, however, and you'll notice a sophisticated cooling system needed to keep that 11GB of VRAM from catching fire.
Read the full review: Nvidia GeForce GTX 1080 Ti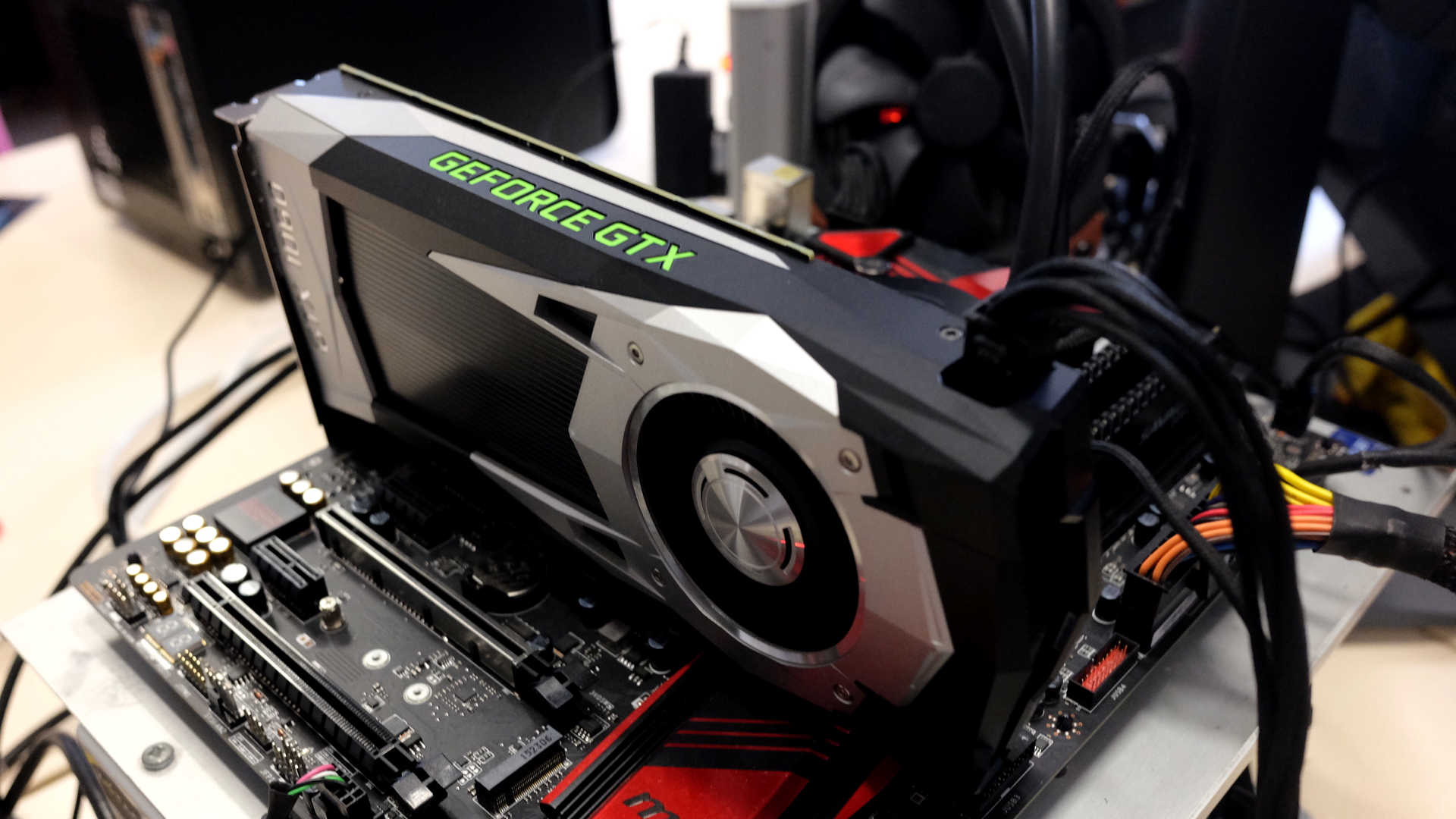 One of Nvidia's best price-to-performance cards ever
Stream Processors: 1,152; 1,280 | Core Clock: 1,506MHz; 1,594 | Memory: 3GB; 6GB GDDR5 | Memory Clock: 8,008MHz | Power Connectors: 1 x 6-pin | Outputs: 1 x DisplayPort, 1 x HDMI, 1 x Dual Link-DVI
Brilliant 1080p performance
Great overclocker
No SLI compatibility
Founder's Edition Price
Though it bears resemblance to the GTX 1070 and 1080, the GTX 1060 draws more parallels to Nvidia's last-gen GeForce 980. In an attempt to compete with the affordable RX 480, which promises 1080p, VR gaming at an aggressive price point, Nvidia was under pressure to come out with something in the same class. The GTX 1060, a mid-range graphics card with a firm grip on 1080p, or even 1440p graphics to a degree, is just that. Given the ubiquity of full HD displays, the GTX 1060 is an inexpensive middle-ground solution for those in need of an energy-efficient GPU that demolishes in terms of performance.
Read the full review: Nvidia GeForce GTX 1060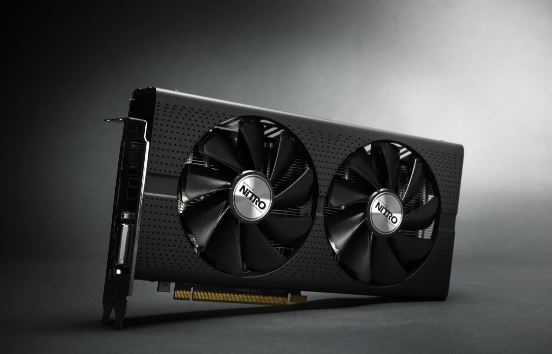 Proof that Polaris pushes the envelope for budget GPUs
Stream Processors: 896 | Core Clock: 1,210; 1,250MHz | Memory: 2GB; 4GB GDDR5 | Memory Clock: 7,000MHz | Power Connectors: None | Outputs: 1 x DisplayPort, 1 x HDMI, 1 x DVI
Beats integrated graphics at light 1080p gaming
HDR support
4GB version less affordable
Like the GTX 1050 and 1050 Ti from Nvidia, the latest in AMD's Polaris catalog runs cheap, thanks to various takes on the Radeon RX 460 by XFX, Powercolor and others. The RX 460 proper is quite possibly the most affordable means of 1080p gaming outside of integrated CPU graphics. So long as you're not looking to run The Witcher 3 at 60 fps on Ultra settings, the Radeon RX 460 is a capable, energy efficient piece of kit. Plus, by compromising on memory, it's able to draw all its power straight from the motherboard, negating the need for any 6- or 8-pin connectors.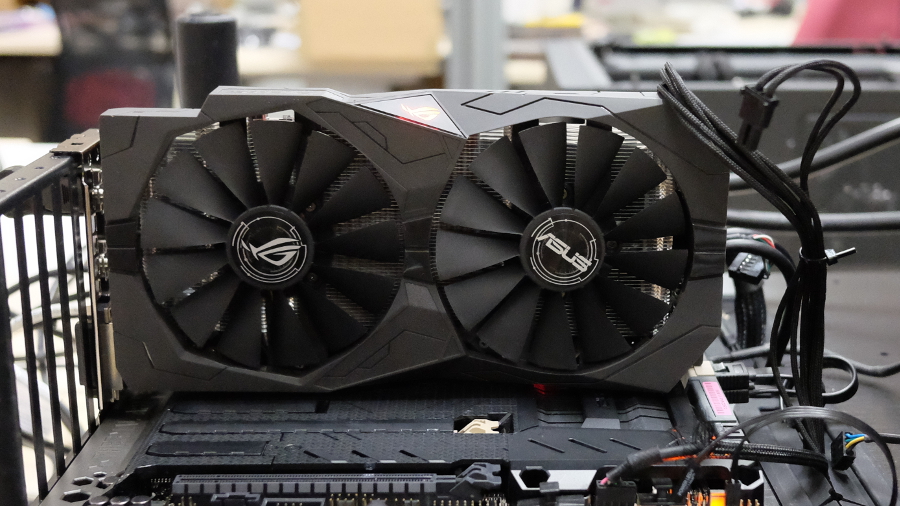 Iterative at best, this isn't the budget card we hoped for
Stream Processors: 768 | Core Clock: 1,290MHz | Memory: 4GB GDDR5 | Memory Clock: 7,008MHz | Power Connectors: None | Length: 241mm | Outputs: 1 x DisplayPort, 1 x HDMI, 1 x DVI
Solid 1080p performer
Good overclocking potential
Poor upgrade from last-gen
Greater than 75W TPD
With so many lucrative successes this generation, we were admittedly disappointed to see the latest addition to the Pascal family almost completely miss the mark. As indicated in our review benchmarks, the Asus ROG Strix GTX 1050 Ti in particular is an overclocker with the 1080p gaming capabilities you might be in dire need of if you haven't upgraded your graphics card in a few years. Otherwise, you're better off saving for a 3GB GTX 1060 instead.
Read the full review:
Gabe Carey has also contributed to this article
Source: TechRadar